Message from

Founder & CEO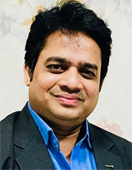 Dr. Shibu John
Founder & CEO, Trinity Media & Marketing Solutions
Promoter, 3D GRAPHY
Dear Medical Respondents,
It gives me immense pleasure to share the potential of a Game Changing technology called 3D Printing. This is indeed a unique technology which is benefiting almost all sectors. And since we are operating in a digital world a technology like this can only help change the dynamics of manufacturing for product making to benefit the end users. And medical fraternity will be benefit from this technology.
The key is the cost of medical expenses and diagnosis is the primary factor where technology can be benefiting. And with 3D printing the future is bright. So before a technology is introduced it is imperative that there has to be proper knowledge and awareness about the technology. And for that we need to have proper and good training programs.
And to create the awareness as a media company we at Trinity Media & Marketing Solutions have taken a conscious effort to educate and disseminate the technology to Dental, Maxillofacial, Orthopaedics, Prosthesis, Bioprinting, Pharma, Research & Development thorough a platform called 3D GRAPHY.
3D GRAPHY is a platform created by Trinity Media & Marketing solutions for training, education & Medical Service. And 3D GRAPHY LAB is a set up instituted for Medical Hospitals, Dental Hospitals, Medical Colleges, Dental Colleges, Pharma Colleges, Government & Private medical institutions, Medical Professionals and students offering a one-stop solutions in Imaging, Design, Scanning, 3D printing, Training & Services. The set up will benefit the Dental, Maxillofacial, Craniofacial, Orthopedic, Plastic Surgery, Prosthesis, Bioprinting, research, medical devices and other clinical requirements across specialisations.
The lab is an institutional body providing an end-to- end solution with 3D printing for medical prototypes. The platform is benefiting students, medical professionals who are doctors and entrepreneurs with hands-on training and study. For professionals like doctors and surgeons it will help for diagnosis. Pre-operative planning before the actual surgery for a successful procedure. It is also used by prosthodontist for proper planning, Orthodontist for a new procedure called clear aligners and for implantologist to print surgical guides. Also apart from prototyping in dental, maxillofacial, orthopedics now actual implants can also be 3D printed in metal like cobaltcrome , stainless steel, titanium with biocompatible materials which are approved by FDA.
CEO & FOUNDER PROFILE :
A Turn-round specialist and a Media & Marketing professional with a Degree in Commerce, Post Graduate & Professional Doctorate in Media & Marketing from National Institute of Management, Mumbai University with thesis on Media consolidation with concepts. Worked in the media with companies like Indian Express, Times of India, Gateway Media & Hindustan Times where the intent was to create concepts, identify new technologies, events and promotion to enhance the through put of the company with Through The Line (TTL) initiatives. With a total experience of 21 plus years in marketing, media, content, events and new innovative business concepts for upcoming technologies Trinity Media & Marketing Solutions was born with the passion and vision to work with an intend for clients & partners for innovative media & marketing solutions.
In his journey identified 3D PRINTING as one key technology benefiting all the major sectors to form a consortium through a community called 3D PRINTING WORLD COMMUNITY CLUB.
And further aligning with all the major sectors and conducting events, understood the need to create awareness with 3D printing in Medical Sector to benefit the doctors and patients.